We Carry:
Lottery Books
Oils & Incense
Soaps and Cleansers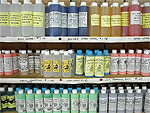 Welcome to OldGrandpa.com!

Thank you for visiting OldGrandpa.com. Starting October 1st, all customers can now pre-order the 2015 Editions of our latest series of lottery books. We will begin shipping the 2015 editions in December. Place your pre-order today to reserve your copy. Feel free to check our catalog and you are always welcome to call us direct if you have any questions.

Click Here For The 2015 Lottery Book Pre-Orders


Join the "Happiness Is A Hit" Club today!!
Provide us with your birthdate and we will send your custom, monthly numbers workout plus other Club-only specials we will be running throughout 2015. Whether you prefer your number workouts sent via email or snail-mail, we offer both delivery options.

Click Here For Happiness Is A Hit!!
Our lottery tipsheets and lottery books have been the top source for "Hot" numbers for over 35 years. We also carry many other products including oils, candles, floor wash, root bags, incense, gemstones and many other unique gifts. We are always happy to help!! Peace, Love and may Good Luck and Fortune come to all of my friends ... Old Grandpa
Call Us Direct: (410)539-9952
© Copyright 2015 www.oldgrandpa.com